Belgium, Germany and the Netherlands have different traditions and approaches to studying. Especially in Germany, the variety of possible options and the necessity to select courses within your chosen subject can provide newcomers with some initial challenges. RWTH Aachen provides an in-depth video in German and a survival guide for international students to help wade through the options.
In the Euregio Meuse-Rhine in general, students are expected to learn to find their own way and to work independently. Working on one's own also means to ask for help with the respective institutions for student support associations, learning groups and fellow students. Utilise the events that are planned for new students, they provide the added benefit of finding new friends. Our section on intercultural learning can also be helpful for students.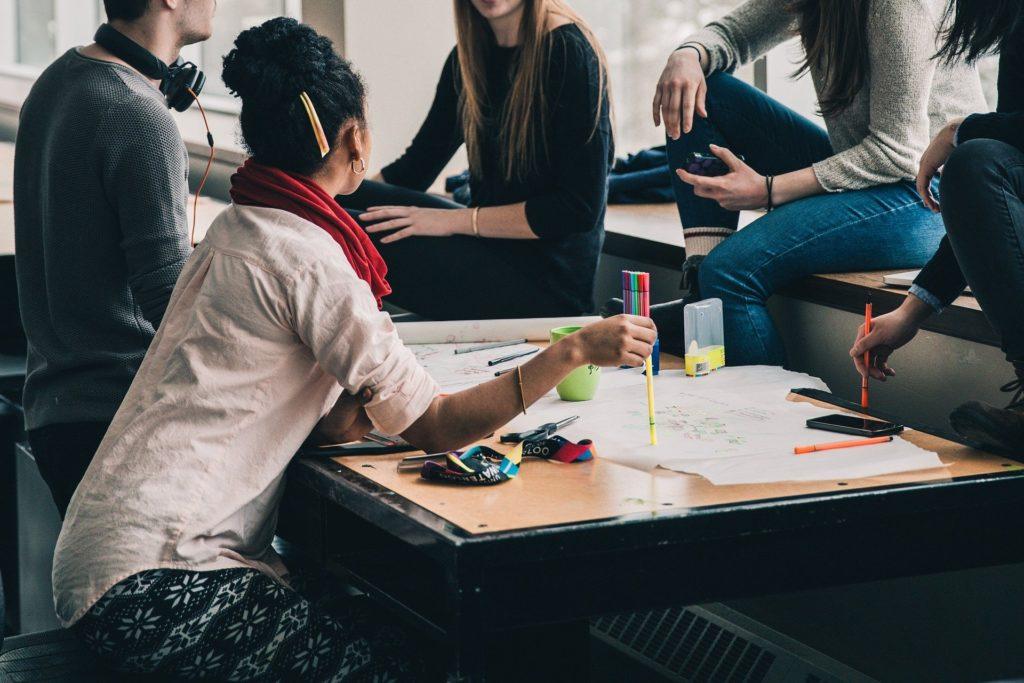 Among the 110,000 students in the Euregio Meuse-Rhine, there are about 20,000 who come from abroad. Some students are from the neighbouring countries and so the universities provide there are dedicated pages on their websites for Dutch students studying in Aachen (in Dutch) and for German students headed to Zuyd-Hogeschool (in German).
Approximately 2,200 students in the Euregio Meuse-Rhine live, study and possibly work cross-border, mostly in Vaals (NL), Aachen (DE), Riemst and Lanaken (BE). Cross-border commuting might sometimes ask for support – so be sure to check out the free services in the youRegion community. For example: the need to register or keep up residences in two countries, and for types of "minijob" in Germany being disadventegeous when you live across the border. Find a summary on studying cross-border by GrenzInfoPunkte in Dutch, French and German.
Probably the best-known exchange programme for students within the EU is the Erasmus+ programme. Students can enjoy new experiences at a partner university close to their (second) home for up to two semesters. They enlist the help of several student initiatives help newcomers settle in.
Note, that Belgian universities offer Erasmus Belgica, where students can attend an Erasmus programme in a different language community within the same country!
Background
Belgium, Germany and the Netherlands, as countries of the European Higher Education Area, share a common credit transfer system in higher education. That greatly facilitates exchanges such as Erasmus and the recognition of diploma. Approximately one ECTS corresponds to 25-30 hours of work. A Bachelor degree of three years will include 180 ECTS, a master's degree of two years 120.
Due to this harmonised and even unified system, Bachelor and Master's programmes mean the same across the Euregio Meuse-Rhine. Note, however, that in the Netherlands (tuition fee about €2,000 per year) a one-year master is much more common than in Germany and Belgium (tuition fee of about €600 per year).
Students studying in Germany are not obliged to pay tuition fees. However, every student is required to pay a Semesterbeitrag (semester fee) each semester. The revenues collected from the semester fee are used to finance various student-related services. Part of the semester fee also covers the cost of the Semester Ticket / NRW Ticket. With this ticket, enrolled students may use all modes of local public transportation within North Rhine-Westphalia (2nd class), and even travel to Maastricht, free of charge for the respective semester.
Joint, euregional programmes and research
The European Master of Science in Midwifery is just one example of existing collaborations between euregional universities across the border.
As Maastricht University puts it: "The CIE research group is also involved in the Virtual Entrepreneurship Centre, which is a cross-border inter-university research network comprising Maastricht University, KU Leuven (BE), Hasselt University (BE), Liège University (BE), RWTH Aachen University (DE), and TU Eindhoven (NL). The Virtual Entrepreneurship Centre organises and supports joint research events and projects in the broad field of entrepreneurship."
Large developments such as the phasing out of coal mining around Aachen and several billion euros for projects on innovation and research create more momentum for collaborations, such as in Brainergy Park Jülich. 
A truly euregional project is the prospective Einstein Telescope. This multi-billion project involves many different institutes, organisations, researchers and construction companies across the Euregio Meuse-Rhine and will potentially boost the European and global profile of the Euregio.
Chances and challenges across the border
Living across the border can allow for cheaper rents and make for a really interesting life experience. However, be aware of some potential challenges so they do not come unexpected:
The possible need to register or maintain a Zweitwohnsitz (residence) in Germany for successful application for Bafög (student loans) – or otherwise possibly chances for Auslandsbafög (international student loans).
The German MiniJob (marginal employment up to €450 per month) is not advantageous when you live across the border. Head to GrensInfoPunkt for more detailed information in Dutch, French and German on working across the border as a student.
Living in the same country that you work in, but not in the country that you study might have both positive and negative consequences regarding your social security, taxation and so forth. Go to GrenzInfoPunkte for more information in Dutch, German and French on extended information for students (prospective, current and former) and make an appointment with GrenzInfoPunkte in Aachen/Eurode or Maastricht for more personalised advice.