This is a little guide to all the particular services and information that guide you in Aachen, in Städteregion Aachen and the districts of Heinsberg, Düren, and Euskirchen. For all information on this Euregio, visit our thematic sections or find the guides to Eastern Belgium and to the Province of Liège.
You might be particularly interested in the services of Newcomer Service Aachen (information, events in English such as newcomer Friday, spouse network, website in German), GrenzInfoPunkt Aachen-Eurode for cross-border commuters (DE/NL/FR), RWTH Dual Career Service as well as Lotsenkreis Aachen with several more actors. 
On this website, find info on housing, education, living with a disability, cities & places, public transport and many more. 
Registration & residence permit
For the German part of the Euregio Meuse-Rhine, find more information with
the respective districts. Each district has an "Ausländerbehörde"
that people from third countries have to get in touch with (the websites are all German only). Search the web for your municipality and "Einwohnermeldeamt" to find out where to register, as of Aachen's online tool appointments. 
For the area around Aachen, these are the links to the respective "Ausländerbehörden" (wikipedia, DE), the foreigners authorities for each district:
Each resident must be registered with their respective municipality. Find an overview on the different procedures below. You can also insert your country and specific situation on ec.europa.eu's online quick-check. 
This source also provides more information on your residence-rights. The ec.europa.eu website also provides a (rather abstract) comparison of integration policies in Belgium, Germany and the Netherlands where all countries in the Euregio Meuse-Rhine rank comparably high. If you are unsatisfied, note that when residing in a new place, you also gain certain political rights.
For more information on your family's or partner's rights, find europa.eu's infomation and quick checks for partners from within the EU or the family rights for third-state nationals. Click on the map below for the national content relative to your place of residence:
Some tips & tricks on how to faciliate and improve your hunt for a room, flat or house in and around Aachen:
Background on WG's, "Wohngemeinschaften" and yet so much more than just shared appartments:
The German concept of a WG is a specific one. Since the famous social movements in the 1968´s, these Wohngemeinschaften celebrate great popularity – among students, but also young professionals and increasingly among older people.
Joining a Wohngemeinschaft that is not a "Zweck-WG" means entering a community, where sharing yourself is an expectation. That is why:
When looking for a WG you have to convince your new housemates that you will be a good part of their community – just formally mentioning your interest is usually not a sufficient first step!
The concept of "Zwischenmiete" means "rent-in-between" and can help you settle first to then find a flat for the longterm
The most common portals are the following:
wg-gesucht (for flatshares and flats, mostly by private people, also for "Zwischenmiete")
immoscout24.de  (mostly commercial salesmen)
immowelt.de (mostly commercial salesmen)
possible local options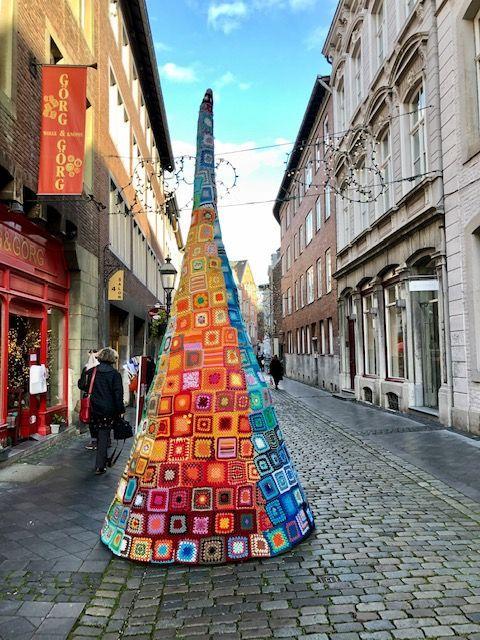 Starting your social life
The universities, cities, and button-up initiatives provide own initiatives to find buddies in and around Aachen.
Associations in and around Aachen
Germans love their "Vereinsleben", which means they form ssociations for all their sports and hobbies you can think of.
Insert e.g. "Aachen" and "Aikido" and start your radius search in the whole federal state of Northrhine Westphalia with vereinssuche-nrw.de (DE only). 
If you have a special need or interest in sports with a special (dis-)ability, find info on the sports of Behindertensportbund Aachen (DE only) and on our dedicated section.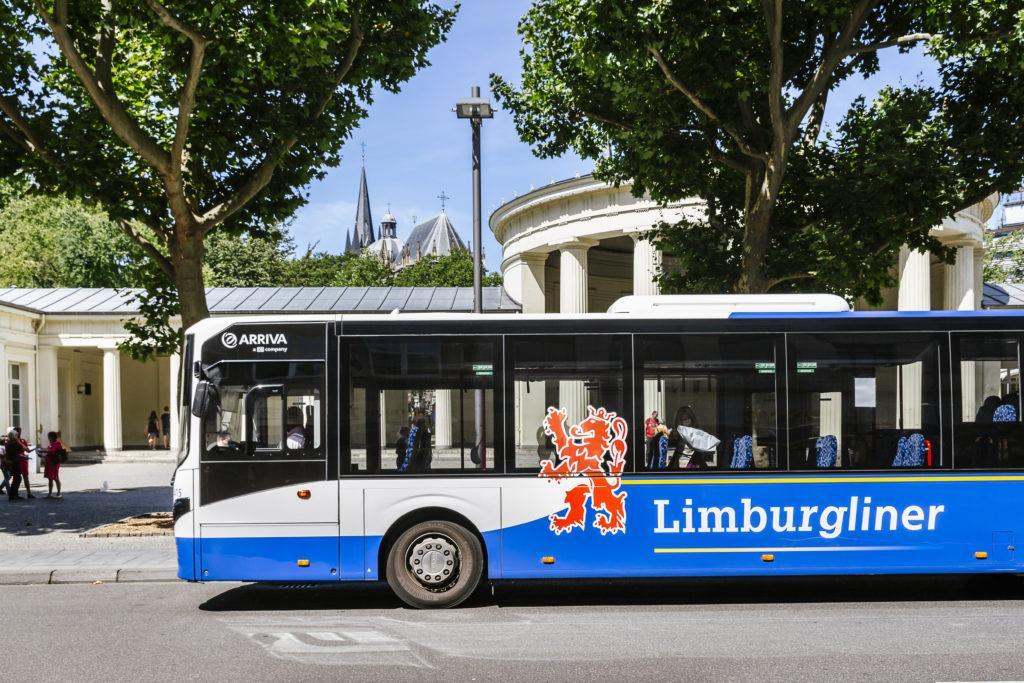 Note that you can go to nearby Kelmis (B) and Vaals (NL) using the very same ticket as within the city. No need for any extra fees.
If you are a student from Aachen, you can use your "Semesterticket" to go anywhere in the federal state of North rhine-Westphalia – and even go all the way to Maastricht for free, by train RE18 or the Dutch bus lines 350 and 44, with connections every 15 minutes. 
Public transport in the Aachen area
Within Aachen and the neighboring areas of Düren and Heinsberg tickets and subscriptions within the AVV tariff are available for purchase in buses (cash only), via ASEAG and Deutsche Bahn customer centers close to the main Busstation and in the main trainstation – and via mobile apps.
For short journeys within the city the Flux-Ticket (up to 4 stops) can be used and within the city center of Aachen the City XL ticket (German only) is an alternative for short distances. For longer journeys within the city or to the neighboring cities of Kelmis (B) and Vaals (NL) a regular Ticket (Preisstufe 1) must be purchased and will cost you 2,80€.
To enter buses all doors can be used and tickets do not need to be shown to the driver.
Plan ahead for long distances and save money
When going the longer distance, note that the German train carrier at bahn.de offers large discounts for early pre-reservation; a last-minute connection at cheap prices is usually much more costly. Long-distance coaches such as Flixbus offer a usually cheaper yet less comfortable alternative, yet the national connections from Aachen are limited.
Five is cheaper than two
Within Northrhine-Westphalia group tickets are a bargain. It can be cheaper to buy a day ticket for five people (Minigruppen-Ticket, SchönerTagTicket) rather than paying Aachen-Cologne for two (or even one), even more so in off-peak hours and on weekends. 
Within Germany ticketing is mostly organized within smaller areas that are called "Verkehrsverbund" and usually include several regional areas and offer various ticketing and subscription options for all public transport connections within their area:
AVV

(Aachener Verkehrsverbund, German only)

includes the areas of Aachen, Düren and Heinsberg.
VRS

(Verkehrsverbund Rhein-Sieg, German only)

includes the Region of Cologne, Bonn and the administrative area of Euskirchen.
VRR

(Verkehrsverbund Rhein Ruhr)

includes the area of Düsseldorf and most of the cities within "Ruhrgebiet" – and up to Dutch cities like Venlo, Nijmegen and Arnhem.
Unlike in Belgium or the Netherlands, regional tickets include both busses and regional trains and a zone-based tariff is used. For traveling within the federal state of North-Rhine- Westphalia flatrate tickets like the SchönerTagTicket NRW are available, as well as tickets for single journeys (NRW Tarif). Both are also available for purchase via the DB Navigator App.
Personal consultations for flatrates
For monthly flatrates and abos within Aachen Region (German only, personal info at ASEAG Kundencenter, close to Bushof). 
For support in English, Aachen Main station might be a better option. Companies in the AVV area often offer a subsidised "Job-Ticket" for their employees that is much cheaper than usual subscriptions so it might be worth asking if you can buy the ticket from your employer.
Here you can find an interactive map of the AVV area, mainly showing the bus lines in and around Aachen. If you are looking for regional train connections within North-Rhine Westphalia, have a look at the digital NRW Regionalverkehrsplan. Below, find the main public transport in Aachen and the Euregio Meuse-Rhine, including cross-border connections.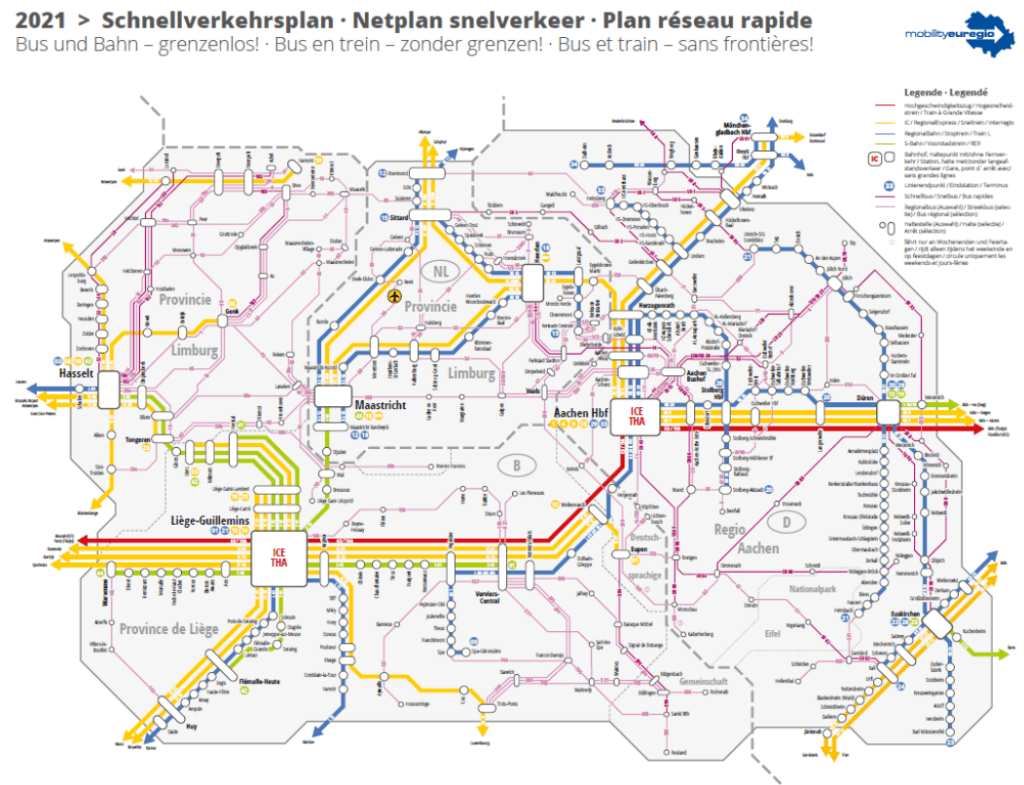 We compiled a whole lot of information on learning German in our dedicated section.
Kein Problem
Beginners: Yes, German is among the harder languages. However
when just starting out, grammar is not crucial. German also shares a lot
of vocabulary with English – you can easily compare vocabulary by
checking out the German version of our website.
Advanced: Don´t worry about making mistakes, and don't get too caught up on articles. If
you still have a hard time with native speakers, Dutch or Belgian
neighbours from just about the border can relate to your struggles. Many
people speak quite fluent German, althouhg less among the younger
generation.
Some in-depth material, tips & tricks.
Tips & Tricks
Material
Background
(Where) do I need to know German – and where to find the courses for me and my partner?
Before or while you take the deep dive, read some testimonials about learning German from fellow sufferers.
Local language & dialects
Here is some input on how German is like in Region Aachen, the German-speaking community of Belgium and the so-called Rhineland:
The Aachen region and the German-speaking Community in Belgium historically share the same language and dialects.
People around "Ooche" (=Aachen) / Aken / Aix la-Chapelle are notoriously famous for "singing" while speaking – even among other Rhinelanders, that others find to "sing" when talking.
Standard language is the clear norm among young academics, except for having hard times with distinguishing between hissing sounds such as "ch" or "sch". Dialect has its high time, however, during carnival, with multiple songs in "Kölsch" or "Öcher Platt" forming part of regional heritage and identity.
Aachen is home to Germany's largest technical university. Academic life is also present in Forschungszentrum Jülich, and right across the borders in Heerlen, Sittard, and Maastricht.
Experiences from Dutch students coming to Germany from Duitslanddesk.nl (Dutch only); information for Dutch students coming to Aachen studereninaken.nl (Dutch only); overview on all the Alumni associations (Dutch only) of those Dutch students that had already been studying.
Experiences from international students in Aachen, impressions and interview with Anas Abdelrazeq and find some more general student stories from Germany
For information on the general particularities of studying at a German university or university of applied sciences.
Learn about the experiences of other international students in Germany from the blog of to "study-in-germany" and specifically for Aachen 
More background on Aachen as a student city can be found, among others, with study-in-germany.de ,  studycheck.de, and masterportal.com
Academic life in Northrhine-Westphalia (federal state responsible for reserach and education) is, furthermore,  distinguished by the close proximity to other major hubs, with Cologne, Bonn and Düsseldorf university and many more within free reach of the "Semesterticket" for trains and busses
Cross-border students
Student life in Aachen can hardly be seperated from neighbouring Belgium and the Netherlands. The "semesterticket" for public transport extends towards Heerlen and Maastricht, and to neighbouring Kelmis in Belgium.
Only in Vaals (NL), more than 1,000 students of Aachen universities reside and many more in nearby Eynatten or Eupen (BE). Some students also live in Aachen but study in e.g. Heerlen or Maastricht (NL).
Aachenerkinder.de (DE only) enlists activitites and information for children and parents, Kingkalli-magazine (DE only) provides information on events, Familienratgeber Aachen helps with problem solving at home (DE only). For living with children across borders, linguacluster-project clustered dozens of topics on the cross-border regoin in three languages.
Kita-Navigator
Note that for kindergardens and day care for small children, there are "Kita-Navigator" (DE only) for the following districts that make part of the Region Aachen Zweckverband (German is part of the Euregio Meuse-Rhine):
Extra-inforrmation
City libraries like Stadtbibliothek Aachen (EN summary) have a rich cultural and educative offer for children
You can check the various "Kommunale Integrationszentren" for extra support with German as a non-native language, example of KI Aachen (DE only)
Education in NRW, education in Europe
Region Aachen with its cities and districts is part of the educational system of the federal state of Northrhine-Westphalia. Each federal state is distinctive in e.g. the duration of schooling (12-13 years, primary school of 4 or 6 years), the choice of subjects, A-level exams and holiday periods.
As a pecularity, there is the network of public "Euregioprofilschulen" with particular education in neighbouring languages (languages, exchange programmes)
Additionally, there is Northrhine-Westphalias  public format of "Europaschulen" with a.o. more language education programs
Region Aachen is also part of the Euregio Meuse-Rhine and borders with four (!) educational systems. Some children living here grow up in a different educational system. Find a multilingual overview (DE/FR/NL) with comparative models to neighbouring schooling systems on the portal euregiowaves.eu (DE/FR/NL). You will have to scroll a little, comparative tables by omnisep.fr). Each system is recognised for its high standards. Here is a little summary:
Public, often internationally oriented schools
Private, international education
If you need to find an international school in Aachen or surroundings, here is a little summary:
In nearby Germany, Cologne, Düsseldorf and the former federal capital of Bonn feature several international schools.
In the Netherlands, find an extensive list of international schools (by commercial undutchables.nl).  Except for the United World College in Maastricht and Afnorth international school (Brunssum in proximity to Aachen, close to the NATO-base) also Eindhoven might be a workable option
depending on your place of residence.
In Belgium, Brussels area has one of the world´s largest densities for international schools. Except for Maastricht, also the private international schools in Eindhoven might be a proximate option.
Getting around Aachen
Germany grants free public transport (except for IC- and ICE-trains) to people with a severe disabilities and a "Schwerbehindertenausweis" or equivalent, find info at AVV public transportation.  
For travelling in an around Aachen, you might find the following two maps helpful:
For moving even more freely, there are driving schools who specifically cater for candidates with disabilities, one is located in Aachen's city centre on Jülicher Straße.
Disclaimer: Unfortunately we are unable to provide an extensive listing, however we are able to give tips for further research.
Rights
Those with a disability are entitled for special support from your municipality, your university or employer. Feel free to contact Stadt Aachen at behinderungen@mail.aachen.de for more information, especially when websites are not available in English.
Find more overviews (in German) via:
Two helpful terms for further internet research are:
Gleichstellungsbeauftragte = officers for equal opportunities; and
Nachteilsausgleich = compensation for disadvantages.
RWTH University, for example, features a Gleichstellungsbeauftragte and Gleichstellungsbüro for checking if you are eligible for Nachteilsausgleich or other support.
For graduates with a (severe) disability, the Bundesagentur für Arbeit (public employment office) provides additional support.
Sports and leisure activities
In and around Aachen, there are sports clubs with special offers for people with disability including the possibility to join in hobbies such as like wheelchair-basketball.
Behindertensportgemeinschaft Aachen e.V. offers everything from badminton to volleyball in three separate locations.
In and around Aachen, there is a large support network for visually impaired people managed by  Blinden- und Sehbehindertenverein. You are welcome to join events, find useful links or sign up for a consultation and online-community groups:
Problem solving and self-help
Find a huge overview on possible "Selbsthilfegruppen" in Städteregion Aachen Heinsberg district, Düren district and Euskirchen district self-help groups – starting from problems with Alcohol to Tinitus. Although usually German-speaking, these group are a good starting point to find support in other languages.
PÄZ is the central contact point for equal treatment ("Gleichbehandlungsstelle") in and around Aachen, and supports in cases of unequal treatment or chances, including racism.
Schools
Find an overview on kindergarden, schools and services for visually impaired around Aachen, among others the central "Louis Braille Blindenschule" in Düren.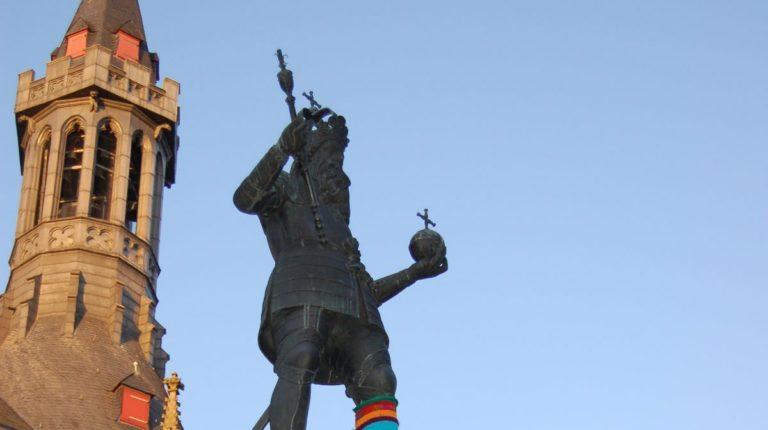 Aachen is first, and not only on our list. According to Internations, Aachen is even the Best Expat City in Germany, ranking very high on employability. To remain with top-rankings, the city did not only skip its title as the bathing town "Bad Aachen" to stay first in the alphabet. City and universities cooperate and co-create services like the Akademische Auslandsamt for RWTH university students and staff. It greatly facilitates the registration of third-state nationals working and studying in Aachen.
Aachen, Oche, Aken, Aix-la-Chapelle, Akwizgran – Emperor Charlemagnes former European capital has many international names. Check out Study In Germany's view on Aachen compared to other German student cities and pick up some helpful tips (in German) from iamexpat.de. As the Study In Germany website puts it: "Its prestigious technical college, central location in Europe and agreeable size have made Aachen a magnet for international students."
You might have trouble finding something in this westernmost German city, information in English on living and working in Aachen (by Spraachen.org) will help you out.
"Klenkes" is the word for how people in Aachen traditionally greet each other and is also the name of the most expansive guide to cultural events (in German). Click here to subscribe to Klenkes weekly newsletter (in German). Find more information on the "Aachen-Wiki" (DE) or find the Use-it map for young travellers, by Bürgerstiftung Aachen.
Overview on Aachen's scientific development
Heinsberg allows for co-working at "werkbank" and relaxing at the district network of "lucky places" or the beach of "Lago Laprello" which is located close to the city centre.
Cross-border hopping makes for a great quality of life where the Rur river leaves Germany to merge into the Meuse in "Roer"mond with even more lakes and opportunities for sailing and canoeing.
Find an overview on attractive employers and hidden champions at living in and around Heinsberg – with interesting statistics and brief overviews such as an average of 150€/square meter for housing plots. Leben-im-westen.de also provides an overview on all associations and clubs in Kreis Heinsberg.
Heinsberg, as the westernmost district of Germany, is home to the famous Verpoorten Advocaat. This atypical name also reveals the proximity to the surrounding Netherlands.
As a historic particularity, Selfkant municipality in the extreme west of Heinsberg was under Dutch control from 1949-1963. At this time, the small municipality lost it's connection to the German railway system but retained the beautiful historic Selfkantbahn.
Euskirchen (German only) hosts a true paradise of palms. This makes it clear why the Romans loved to have their spa in nearby Zülpich. This historic town still allows for an authentic bath, with the museum Römerbad and Wassersportsee Zülpich.
If you want to learn about life in more recent "ancient" times, visit Freilichtmuseum Kommmern with its half-timbered houses collected from all of the Rhineland. If you are more than a tourist in Kreis Euskirchen, find information in German on the leading branches in this district and the Kita-Navigator for childcare.
For more current news and tips on life between Erft and Eifel Radio Euskirchen provides local information in German. If you want to integreat or want to help others to "integreat", the central platform for volunteering in and around Euskirchen is a helpful contact point.
If you liked Monschau, you will enjoy these pitoresque towns in the Eifel mountains. Blankenheim is famous for the "Ahrquelle" – a half-timbered house, hosting the natural source of the Ahr river (with its vineyards, German only). The Spa town of Bad Münstereifel is famous for its Heino-Café and cakes, and has recently opened a large designer city outlet in the half-timbered houses of its old town.
Düren (German only) is the gateway to the (Rur-)Eifel, the hillsides, forests and lakes of and Kreis Düren (see website "seen-und-entdecken"). The Eifel "mountains"are a popular tourist destination with places like Nideggen and the national park gate Heimbach. The district Kreis Düren (German only) has also a long tradition in paper production and features a paper museum (German only).
Remarkably, the whole Kreis Düren features free-of-charge childcare with the Kita-Navigator map (in German). For an altenative lifestyle of combined living in working in Düren, PrymPark is a remarkable Co-housing project (in German) including a swimming pond. Head to additional information in German in our co-working section.
For small children, Bubenheimer Spieleland a small-scale theme park with a labyrinth made of corn is just close by . Or go for a swim in beautiful Lake Düren or nearby Echtzer See. For Christmas, note the huge nativity scene, covering half the church in little Drove (car advisable). If this impressive scenery was an inspiration for collecting your own scnerey of half-timbered pottery hosues, find the in Töpfereimuseum Langerwehe. Not far from both Jülich and Düren, find the world's largest artifical hill Sophienhöhe.
Support especially for international newcomers is provided by places such as Café International (Protestant) and Caritas Düren (Catholic). Affiliated to the two predominant churches, both provide neutral services and welcome people of all faiths (or without), in several languages.
For more impressions, head to this video capturing the natural and cultural highlights. For information on how to spend your working or weekend days along the the district and Rur-river, head to popular local broadcaster Radio Rur (German only).
Jülich welcomes you home to a huge research campus with nearly 6,000 employees, Jülich literally  embeds high-tech in a beautiful landscape. Follow their digital tour with multiple filters for research and projects. 
"Mount" Sophienhöhe is the world's largest artificial hill. Also the Rur river (not to be confused with the Ruhr river!) and several lakes  make for interesting leisure activities. Note that within the whole Kreis Düren district, childcare is free of charge and can be found with the map or Kita-Navigator. (Not) only with little children, Brückenkopfpark combines zoo, theme park and historic heritage in an Napoleonic Jülich fortress – right next to the charming city centre.
Imagefilm Kreis Düren (DE only)
Herzogenrath (DE) and Kerkrade (NL) share a unique municipal cooperation "Eurode". Schools like Gesamtschule Herzogenrath shares bilingual German and Dutch education, and Eurode also shares the same street for more than two kilometres (Neustraße/Nieuwstraat), the Eurode Business Centre (DE/NL) – and a common dialect.
The world's first copper-city and Germany's hidden carnival capital (third largest parade), Stolberg and Eschweiler are connected by the Inde river. With employability in pharma-research, these municipalities charm with villages from 'bluestone' houses such as Breinig and Dorff,  close to Kornelimünster.
If you have not been yet, visit beautiful Monschau with half-timbered houses in a picturesque valley, croned by two castles.
Video on Würselen/Rhineland as a whole:
Aachen, Ooche, Aix la-Chapelle, Aken, Aquisgranum: Here are some hints on how the "Rhinelanders" live in this westernmost area of Germany.
Typical Germany
Find some video impressions on how you might experience typical life in Germany (especially when coming from countries more east or south).
Not quite typical Germans
Here is a crucial note:  Within Germany, and especially in how they think about themselves, the "Rhineland" and its people have a reputation for being easy going, tolerant, spontaneous, glowingly and even "loud". That is why people living in Charlemagne´s former capital might not recognize themselves in the  strict and humorless Prussian that adheres to every rule cold-heartedly.
Best place to make friends (but still difficult)
In fact, "Internations" network ranked Aachen No. 1 of all German expat cities in 2019. With Rhinelandic Cologne as Second, Aachen is the best place in Germany to make friends (but even here,only few find making friends an easy thing).
Rhenish Mentality
In order to understand the "Rhenish" Mentality, the so called constitution, the "Rheinisches (or Kölsches) Grundgesetz  is a good starting point to understand the savoir-vivre in this area, mostly applicable for private life.
Sing along
In the end, maybe people in the Rhineland are still quite German – but they do make an effort to distinguish themselves. Actually, (older) Aachen-natives are famous for singing while speaking – even among other Rhinelanders that are – in reverse – famous for their singing in all other parts of Germany …