The trinational Euregiochambers (of Commerce) allow for a first overview across the Euregio Meuse-Rhine. They combine information from the various chambers of commerce at once. Also, find the free euregional match-making platform of hyperregio.eu, open for subscription.
For general information on starting a business across the Euregio Meuse-Rhine, the Europa.eu website provides a multilingual overview on Business in BE, DE, and NL. In the clickable map below, you find regionalised support and some highlights for an entrepreneurial mind:
your region & your Business:
Take a Seat in the Euregion
Quoting from the website of
digital church
in Aachen (scroll to the 7th project):
"The "Take a Seat in the Euregion" offer is aimed at start-ups from the following incubators in the border triangle:
Corda Campus (B), Brightlands Smart Service Campus (NL) and digitalHUB Aachen (D). The project is supported by the funding agencies LRM (B), LIOF (NL) and NRW.Bank (D).
Participating start-ups gain experience abroad and get valuable new input because the incubators pursue different funding approaches. To benefit from "Take a Seat in the Euregion", start-ups simply signal their interest to their contact persons, and the project partners will take care of making the exchange possible.
The advantages for the start-ups:
• Acquisition of intercultural competences
• Exchange with start-ups, investors and consultants in other European countries
• Get to know the market and the market opportunities for your own product beyond the borders
• Possibility to establish first contacts with international business partners
• Uncomplicated participation and low costs"
Digital start-ups that would like to apply for this programme should contact Mukunthan Nadarajah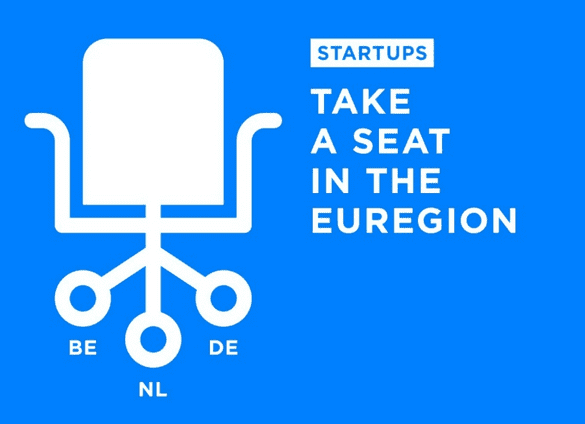 You will deal with regional or national or regional institutions, in most cases. In the Euregio Meuse-Rhine, also these institutions face thousands of cross-border self-employed and businessmen and frequently provide extra information.
For more information on cross-border entrepreneurship, consult sources like
Gross/net, purchasing power parities
If you wonder how to reach even – and still make a living, the public statista.de provides some overview on annual averages:
Belgium: 50.000€ gross – 7.000€ social security – 12.500€ taxes = 30.500€ net
Germany: 52.000€ gross– 10.500€ social security – 10.000€ taxes = 31.500€ net
The Netherlands: 53.000€ gross– 7.000€ social security – 8.800€ taxes = 37.200€ net
Consider, that other taxes (e.g. for cars, fuel) but also benefits apply within the three countries.
Find a visualised overview on consumer prices in Belgium, Germany and the Netherlands ("europa.eu"), selectable per country and product.